It all started with a Facebook post two days before Thanksgiving in 2014.
I was sitting at the MVD waiting to register my son's truck when my sister tagged me in a post about two fillies who were about to go to slaughter…literally. They were set to be killed at noon that day. I looked at the time and my heart dropped; it was 12:45 p.m., and they were already gone. Forlorn, I looked at the post again and realized the fillies were in Nevada. I was in Arizona; Nevada is an hour behind us. They still had 15 minutes!
I knew we couldn't take them; Bethany's Gait was at capacity.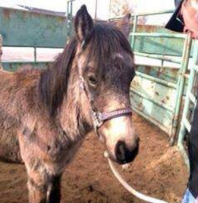 I began praying frantically, asking God to have someone step forward to take the babies. One was a roan paint, the other a gruella and they were just a year old. How could someone have turned these sweet little things over to die? I kept checking the post every few minutes but still no takers. I prayed again for God's will for them. Then very clearly God said, "Take the fillies." I knew my husband and my Board members wouldn't be happy so I argued with God. Well, as any good Christian girl knows, you never argue with the big guy! He said it again, "Take the fillies." Deciding the most important thing was to be faithful, I private messaged the feedlot.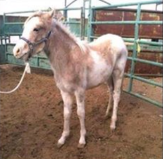 No sooner had I hit "send" when my number was called at MVD. I thought, "Great. How am I going to pull this one off?!" As soon as I sat down I got a message back from the feedlot saying the vet was there and could do the health check and coggins but I had to get payment to them as soon as possible. Fabulous.
I was about to start an MVD transaction that would no doubt take forever and likely with a clerk who could care less about two fillies!! Silly, unfaithful me…I should've known God would pave the way.
I shared what I was doing with the clerk, thinking she'd either be annoyed or think I was insane.
Much to my surprise she was excited to be part of it and was happy to pause while I set things up. She'd start on a transaction and would patiently wait while I set things up on PayPal or responded to a message. She celebrated with me when I knew they were safe. She smiled as I walked out of MVD and into the adventures of two little fillies who I later named Daphne and Delilah…now I just needed to get them to Arizona!
It took me about a month to find the right hauler.
It had to be someone with a real heart for rescue horses, and with patience to deal with these babies who had never trailered before. A friend recommended Gilfry Horse Transport (www.gilfryhorsetransport.com) and after one conversation I knew they were the right company. Again God had his hand in it! We were having more snow than usual that year and it was impossible for them to get to us. So they diverted to their ranch in Phoenix where they took care of the fillies for two days. We weren't charged for those days and I was sent pictures and given daily updates by Ofelia Gilfry.
Daphne and Delilah arrived on New Year's Day 2015.
In the year and a half since that time they have brought joy to and helped heal many of our clients. They are growing into beautiful mares and serving God's purpose. It's scary to think what could have happened to these healthy, beautiful girls had I not decided to be faithful. They have already made such an impact and their work has just begun!
In closing I'm reminded of Hebrews 11:1, "Now faith is confidence in what we hope for and assurance about what we do not see." And Proverbs 2:8, "for He guards the course of the just and protects the way of his faithful ones." Amen to that!